'Our place', 2021
102 x 102cm
acrylic and posca on canvas
SOLD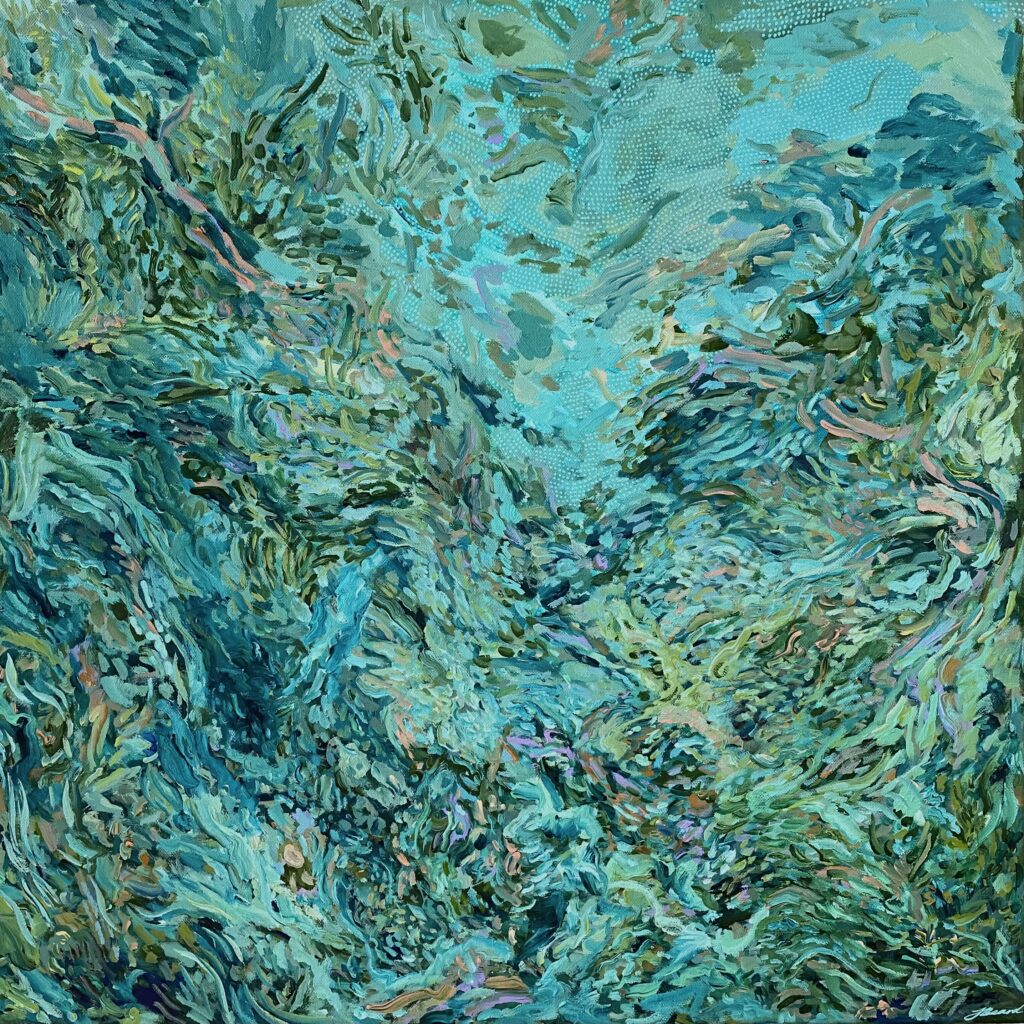 'Shifting blues of Plitvice Lakes' 2021
61 x 61cm
acrylic and posca on canvas
SOLD
Continuing on from my work 'Halcyon', reflecting on a visit to Plitvice Lakes, Croatia. A place so majestic and pure, not even the amount of tourists trailing around could have hindered the tranquillity. Numerous tiered lakes connected by waterfalls that are forever changing formations because of the breaking down and regrowth of rocks underneath. The waters shades of blue, vivid and vibrant, that differ each day from the fascinating science taking place in the environment. To observe such a harmonious flow of nature around me allowed for an easy breath and sense of calm.

'Adventure is waiting' 2021
117 x 117cm
acrylic & posca
SOLD

This is not one scene but many. A collaboration of landscapes in passing as seen from the car window. I always watch the mountains roll by and the rivers turn corners until they are no longer visible, when I am travelling through new areas. I imagine myself trekking and exploring these simple locations that would only ever remain a passing sight. What would I find if I step foot out there? Is there something hiding away waiting to be discovered or is it all just the same as where I have been before? Trees,flowers, water, animals, all become a coloured blur when I take my eyes out of focus and back into the vehicle of reality, homeward bound.
'Moving with the mountains' 2021
91 x 91cm
acrylic and posca on canvas
SOLD

I would move mountains for you,
the way you would for me
I would take your hand and climb them
for they aren't hurdles nor struggles
just a change in the surface of our path.
When the day is done, or the week or year, however long it takes
We can perch proudly on the peak and admire the view
Before deciding which mountain is next
'Sunshine, coffee, sea breeze' 2021
61 x 51cm
acrylic and posca on canvas
SOLD
Finalist 'Unearthed' art prize 2021, Art to Art Melbourne
'Rock flowers, rock pools' 2021
61 x 61cm
acrylic and posca on canvas
SOLD
Wallabi Point. A portion of my home, a constant point of inspiration. This abstract landscape references a couple photos I had taken at the beginning of spring. Taking a slow walk with family and a takeaway coffee in hand. Reaching the beach headland would be the place to pause and take a moment. Appreciate where we live. Breathe the crisp sea air, soak in the sunshine. Admire the various flowers spreading down from the grass surface and over the rocky edge. Watch the waves washing into rock pools below and around the feet of a lone fisherman until we were on our way again, empty coffee cup in hand.


'Light through the leaves' 2021
30.5 x 30.5cm
acrylic and posca on canvas
SOLD
'Serene' 2021
61 x 61cm
acrylic and posca on canvas
SOLD
'Your warmth' 2021
61 x 61cm
acrylic and posca on canvas
SOLD
'Hazy eyes' 2021
91 x 91cm
acrylic and posca on canvas
SOLD
'Somewhere along the way' 2021
91 x 91cm
acrylic and posca on canvas
SOLD
'Dunes on fire' 2021
91 x 122cm
acrylic and posca on canvas
SOLD
I continue to explore how the black summer bushfires effected my local landscapes. I have observed the changes over the past 2 years, beginning with the days leading up, the days after and today, revealing powerful images of nature's resilience.
With the bush being cleared and bearing only a floor of ash and thin trees of black charcoal, I was able to walk all the way through and emerge behind the beach. The realisation that the fire had burnt across the sand dunes seemed shocking; the same beach where people were retreating to for safety. It was a striking juxtaposition between the calming blue sea and the dunes that wore blackened scars.
'Morning rhythm' 2o21
61 x 61cm
acrylic and posca on canvas
SOLD
I have paintings that continue to emerge when reflecting on the early mornings spent with a newborn. I think this period continues to linger as inspiration as it's when I first began to truly appreciate small, delicate, peaceful moments amidst chaotic times. I had never watched the sun rise before having a baby but that soon became a regular occurrence. No matter how many times I got up through the night and how tired and frustrated I was, I became instantly soothed when I snuggled my sweet girl in my arms and could see the blackness of night turn to orange hues outside. We began taking early morning walks before anyone else was out and before the summer sun bared its heat. We both enjoyed the stillness of the morning, the harmonious bird songs and the way the morning light crept between flowers, plants, trees and long reeds on the side of the road.
'Blooming' 2021
30.5 x 30.5cm
acrylic and posca on canvas
SOLD
'Early riser' 2022
61 x 61cm
acrylic and posca on canvas
SOLD
'Natural remedy II' 2021
61 x 61cm
acrylic and posca on canvas
SOLD
'Natural remedy' 2021
61 x 51cm
acrylic and posca on canvas
SOLD